Many of you know how I became a yoga teacher, but if not, check out my story here. Becoming a yoga teacher came with its own challenges, but running a business is another animal.  For those of you wanting to start a business, I have a few bits of advice…read on. If you are not looking to start or run a business, you might just get a bit of entertainment from this story. I look forward to your feedback in any case 🙂
Tip #1 When starting something new, have another method of dependable income.
Luckily, I had another job to cover the bills when I was new to teaching yoga. This kept me from being overly stressed about how yoga was going. My main job was VERY flexible and I was able to stop in the middle of the day or leave early to teach a yoga class a couple  times a week.
Tip #2 In the beginning, keep overhead low.
For the yoga part, I started slow. I had one class a week where I rented space and advertised to build my own class. This first class was at the Back Bone Special Event Center on the West side of Loveland. It was the perfect place for all of us outside of town. Some of you will remember how determined we were to get together. There was no AC, but it was clean. The worst part was the flies (because we kept the door open) and the slivers (from the wood floors and walls). We had to have tweezers on hand. Those were good times!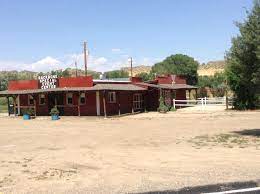 Tip #3 Listen to people that know more than you.
Looking back, I am not sure I wanted to own my own studio in the beginning, but I went to the Loveland Business Development Center (LBDC) for business counseling and tips. In those early years, I worked with investors, bankers, bookkeepers, lawyers, advertisers, social media experts, and mentors in my field. Their on-point advice kept me from falling into many traps and helped me to see problems before they became too big to fix. To this day, I still work with the LBDC! They are an amazing resource for our city.
Tip #4 Don't put all your eggs in one basket.
In addition to my one class, I traveled around to various gyms to teach yoga. This helped me to get more experience as a teacher and plugged me into my community. It also was a great way to make money teaching more classes. Over the years, I taught at The Chilson Center, Loveland Athletic Club, Sylvan Dale Ranch, Inner Balance Rehab Center, and two classes at Mirasol Senior Assisted Living.
Tip #5 Make investments in your business and in your clients.
If you have taken an Iyengar yoga class, you know that we use a LOT of props. I had two enormous suitcases filled with yoga blankets, two totes of wood yoga blocks, and belts. This stuff was heavy! I remember dragging my suitcases into the gym once and a guy said, "Dude! Those are big gym bags!" It was a lot of work, but I did it because props make such a big difference for some people.
Tip #6 Stick with it.
I kept the busy schedule of my main job, plus traveling around to various locations for yoga classes, for two years until in 2013 the big flood took three of my five yoga venues offline. Sylvan Dale, Loveland Athletic Club and the Back Bone all suffered major damage. Using those spots for yoga was no longer an option. There were many businesses and homes in Loveland that were damaged by the flood, but there were also many businesses and people helping, too.
Tip #7 Ask for help.
Because I was working with the LBDC, they knew that I needed help. By this time, I had built a strong community of yoga students, and we needed a safe, clean space to practice yoga.
Tip #8 Go with the flow.
A property management company (and the property owners) decided to open the doors of their vacant buildings to businesses affected by the flood. We could rent space in their building until we found other arrangements. This was an amazing opportunity for me. I was able to stop dragging all my yoga props around and concentrate my effort into one space. The building I chose to rent is South of King Soopers on 29th Street.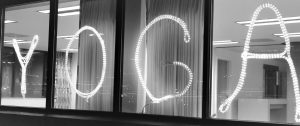 Tip #9 Be brave.
Staying in one spot helped me come to the decision that owning a yoga studio was the way to go. I quit my main job and taught yoga and coached Rossiter full time. It was at this time that I realized what a strong and supportive yoga community we had. We traveled around Loveland together for yoga over the years and, we needed a home base. I had a new mission. I started looking for a new yoga home we could call our own.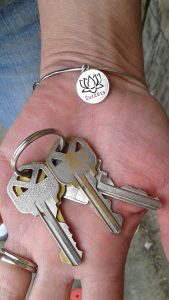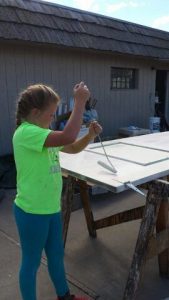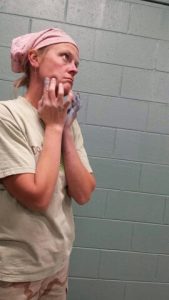 Tip #10 Work Hard.
Three years after the flood, we bought the property we are in now. We got busy remodeling the buildings but we had to move again before we could go to our new home! For two or three months while we were getting the new studio ready, we met for class at Yoga Works (now closed).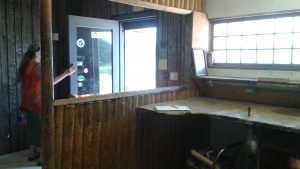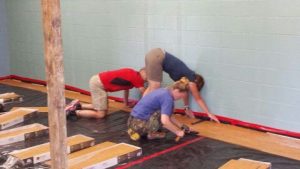 Tip #11 Count your blessings.
The clean-up and remodel was a BIG job that took 3 months, and many of you were there with us. We had yoga students scraping floors, sanding, painting, pulling weeds, trimming trees, plumbing, installing floors, cleaning, and more. There were volunteer days where we had 20 people on the property helping. It is times like this that I am reminded how special our yoga studio is. It was built by you for you, and I am blessed to be part of your world!
Tip #13 Have Fun
My mom told me that when you love what you do you never work a day in your life. I love my job! We have something special here at Grace Yoga that I don't think other yoga studios always have. We are all learning and evolving together. We support each other and we have fun together. I am so proud of us. Thank you for being part of my yoga family, I couldn't do it without you (and I wouldn't want to even if I could).