The Rossiter System is a dynamic two-person stretching workout that will quickly and effectively release adhesions from the connective tissues in the body.
Pricing
Single Rossiter Workout: $60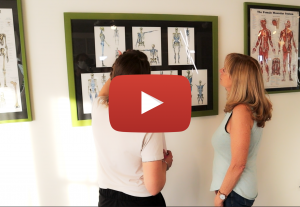 Fix-it 4 Pack: $190 ($47.50 each)
Fix-it 4 Pack Plus: $270 (4 Rossiter @ $47.50 each and 4 Infrared sessions @$20 each)
Mobility Maintenance: $50 AutoPay (includes one Rossiter workout each month), any additional Rossiter is $55 each
To combine wellness services, and save money, see our Packages pricing options
**Ask how to get a free Rossiter Workout
Schedule Your Rossiter Session Below
Get out of pain fast.
There are 215 Rossiter stretching techniques with 70 modifications to help customize each workout for your body. A Rossiter workout has been shown to relieve long term pain, increase range of motion, and restore joint and tissue function.
Schedule Your Rossiter Session Below
You need this.
Rossiter stretching is good for:
neck stiffness, headaches
shoulder pain
knots
back pain
plantar fasciitis
sciatica
carpal tunnel
tendonitis
arthritis
bursitis
tense muscles
Sharon S.
For over a year I have had limited range of motion and pain with movement of my arm. I was unable to sleep on my left side due to my painful shoulder. I decided to try Rossiter and I now have increased range of motion with less pain. I can reach behind my back to fasten clothing and sleep on my left side without pain. I believe Rossiter had made a rapid change in my pain and motion of my shoulder and arm. 
Mike P.
I got up and walked around and for the 1st time in 3 years I wasn't in pain.  THIS IS THE LIFE ALTERING PART!  Since then I no longer take nasty pain medicine and I am planing on going skiing again with friends and long walks with my wife.  Thanks Nicole."
Molly W.
Ryan was able to use Rossiter to relieve pain in my shoulders that inhibits my movement. Very impressed with the down to earth approach and the quality!