Nicole and Ryan Murphy are the owners of Grace Yoga.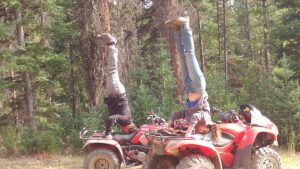 During the last economic downfall, Nicole and Ryan were living on the Western Slope with their baby daughter. Living away from family and friends was hard so they decided to move back the Front Range. They were quickly frustrated because they couldn't sell their house and they didn't know what to do. So Nicole started to pray. What to pray for was the big question–to sell the house, to have more money, to have less stress? … Nicole decided to pray for grace.
Nicole was surprised that teaching yoga was the answer to the prayer for grace. Nicole had spent 4 years in the US Air Force as a mechanic, and just graduated with a BA in Horticulture, so why yoga? Nicole felt a calling. Even though they didn't have the money she decided to sign up for yoga teacher training. As soon as she signed up everything changed. Grace came! Their house sold fast, Nicole and Ryan both found good jobs, and Grace Yoga LLC was formed.​ Life has been getting better and better … with hard work and grace and yoga.​
Over the years, Grace Yoga has been growing and evolving.  Grace Yoga & Wellness is not just a yoga studio any more! This studio is a dynamic center for health and wellness that is growing and looking to the future of the health and wellness community. We have a vision of a community of wellness professionals all under one roof that can lead the greater community to better health and happiness in their lives.  If you are looking for a supportive business community that you can collaborate with for the benefit of your business and clients; we want to work with you.