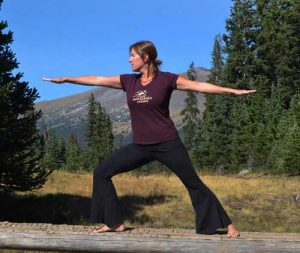 Suzy Hawbaker is a registered yoga teacher, completing her 200 hour training at Holistic Yoga School in Fort Collins. Her specialties are Slow Flow, Restorative, and Yin Yoga. Suzy also completed a 20 hour Restorative Yoga training in 2018.
Suzy began her yoga journey after her 2 daughters were born in the early 2000's. She started to feel off balance, wasn't sleeping well, and was experiencing a lot of anxiety. After discovering she had some health issues, she realized she needed to start taking better care of herself. She found yoga as a way to really connect with her mind, body, and spirit and noticed the health benefits immediately. She fell in love with the movement, but was also very drawn to the meditation and breath work offered in many classes. With a background in working with troubled youth, she knew that yoga could help so much of the population, from young to old. She finally decided she wanted to share this amazing discovery with others and became a certified yoga teacher and began teaching right away. She continues to practice, read, and take workshops to deepen her understanding of this beautiful practice so she can share with her community. Suzy is a down to earth free spirit who brings light and love to each class, and maybe even a little laughter. She offers gentle guidance and modifications so everyone can feel safe and supported
and leave class feeling refreshed and peaceful.
When Suzy isn't in the studio she is running her online retail shop, driving her kids to sports practice, hiking, seeing live music, camping, reading, walking the dogs, and enjoying time with friends.